Another World is Being Blogged
by Joel Federman




Blog Archive, June 9, 2007-February 21, 2008
(For current posts, click on Topia.net Home)

Thursday, February 21, 2008

No, You Can't--No Se Puede
In the interest of providing equal time for the voices of the powerful and the few....

Video source: lessjobsmorewars

Sunday, February 2, 2008

Barack Obama for President

This is supposed to be a blog and a website not about partisan politics but about idealism and hope for a better world--and that is as good a reason as any to support Barack Obama for President.
It has been said many times by many people over the past months that Obama represents a different kind of politics than we have seen for some time, one that unabashadly embraces both the ideals and the dreams of America at its best. Obama is deeply commited to a politics of hope and idealism--and not just any ideals, but those of inclusion, human rights, peace, and social justice.


Video: Barack Obama speaks in Los Angeles on January 31, 2008, on creating social justice and overcoming racial, ethnic, and political divides as the "cause of my life."
If elected, Obama would at minimum turn around the Politics of Wrong Direction that has characterized the last eight years. As he said recently while campaigning in Iowa, ""When I am this party's nominee, my opponent will not be able to say that I voted for the war in Iraq; or that I gave George Bush the benefit of the doubt on Iran; or that I supported Bush-Cheney policies of not talking to leaders that we don't like. And he will not be able to say that I wavered on something as fundamental as whether or not it is ok for America to torture — because it is never ok… I will end the war in Iraq… I will close Guantanamo. I will restore habeas corpus....And I will send once more a message to those yearning faces beyond our shores that says, 'You matter to us. Your future is our future.'" There is no question that he is fully capable of assuming the responsibilities of the presidency on day one, and beginning to turn the country around.


Video: Yes, We Can by will.i.am

Voting for Obama would not be just about electing the first biracial American president--though doing so would send an electrifying message to the world (and to ourselves) that the country has taken a giant step beyond its history and legacy of racism. The most important reason to support Obama is not the color of his skin but the content of his character.
The more one watches and listens to him, and examines his platform for change, the more one grasps the unique qualities of that character. As Senator Ted Kennedy summed up these qualities in his January 28 endorsement speech (see above), Obama is "a leader who sees the world clearly without being cynical. He is a fighter who cares passionately about the causes he believes in, without demonizing those who hold a different view. He is tough-minded, but he also has an uncommon capacity to appeal to 'the better angels of our nature.'" Obama inspires not because he is eloquent, but because who he is, and the changes he proposes, are inspiring.

Video: Ted Kennedy's powerful endorsement of Barack Obama

Obama has shown himself to be one of those leaders who lifts people up on a grand scale, who inspires them to action in the service of the greater good. In this, he has demonstrated the potential to be not just a president, but a genuine world leader, in the sense that Nelson Mandela and the Dalai Lama are world leaders. That is, perhaps, projecting an awful lot into him. But, if there is even some reasonable chance that such could be the case, it is most certainly worth the roll of the dice.

Tuesday, January 22, 2008

Iraqi Teenagers Send Messages of Peace in a Bottle

A day after the Martin Luther King, Jr. holiday, here is the story of Iraqi teenager Taha Nawaf of Fallujah, whose father and uncle were killed in sectarian violence there and who has organized fellow teenagers in a powerful nonviolent symbolic response.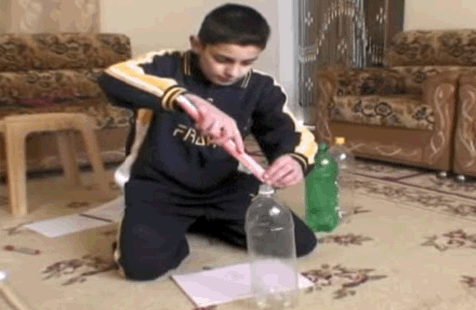 Image and Story Source: CNN.com. Click on any image to see entire CNN video story.

Taha and his compatriots write and draw messages for peace among Sunni, Shiite and Kurd factions, and place them in bottles.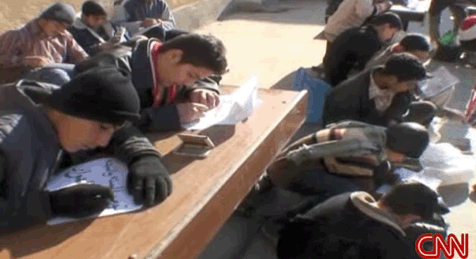 When they have each created messages in four bottles, they march together to a bridge over the Euphrates River, and throw the bottles into the river, from there to flow from their own Sunni neighborhood to Shiite and Kurd communities downstream.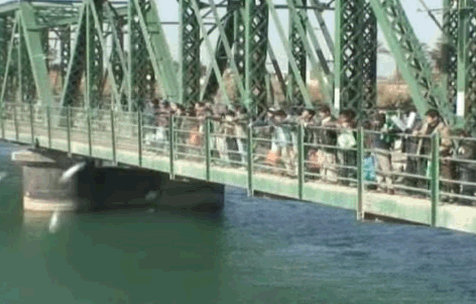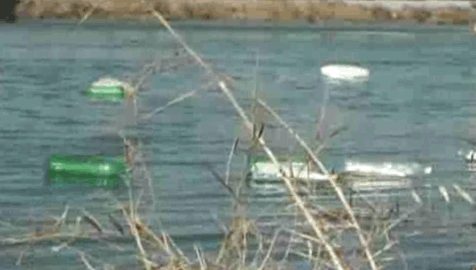 Image and Story Source: CNN.com. Click on any image to see entire CNN video story.

Thursday, October 11, 2007

News from Burma Inside the Blackout

Here's an update from reliable sources inside Burma, showing that despite massive repression, the nonviolent pro-democracy "Saffron Revolution" is continuing unabated: "Resistance, Not Repression, is the Real Story from Burma," by Cynthia Boaz, Truthout, October 9, 2007.
Below is a video of Nobel Peace Laureate Aung San Suu Kyi, the elected Prime Minister of Burma (kept from office and under house arrest by the Burmese military junta), explaining the Burmese pro-democracy movement's commitment to nonviolence:

Nobel Peace Laureate and elected Burmese Prime Minister Aung San Suu Kyi
Video Source: Nancatube

Saturday, October 6, 2007

A World of Support for Burma's Saffron Revolution

Pro-democracy demonstrations--and their suppression--in Burma have touched the world in a way not seen since the Chinese Tiananmen Square protests of 1989, of which they are eerily reminiscent. Today, protesters around the world express their support for the Saffron Revolution in a "Day of International Action for Burma."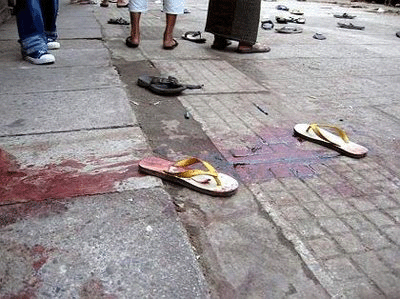 Photo Source: Ko Htike's blo

Though the Burmese military junta has all but blocked outside media coverage and shut off internet service within the country, websites, blogs, and mass emails have continued to provide a vehicle for news of events there to reach the world, and for people to show support for the Saffron Revolution. The most well-known of the unofficial sources transmitting such information is Ko Htike's blog, which provides photos, reports and videos smuggled out of Burma.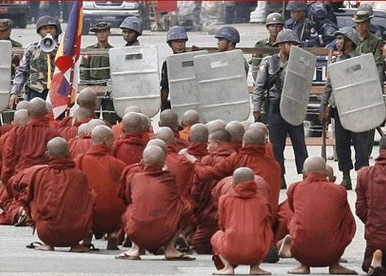 Photo Source: Ko Htike's blog
Protest is coming in many forms. One email circulating widely calls for people to jam the ticket office for the Beijing 2008 Olympics with requests for immediate Chinese action on Burma, since China is one of Burma's largest trading partners and as a member of the UN Security Council is blocking international action: "If everybody we know emails a request (not for tickets, but for China's action for Burma) to ticketsupport@beijing2008.cn, it will significantly slow down Olympics ticket sales and call China's attention to the matter. China may ignore protests, hunger strikes, petitions, wearing-red shirts, etc. But China cannot ignore these emails, which get in the way of processing Olympics ticket requests."
Another way to show support for the Burmese democracy movement is to Boycott Chevron, whose natural gas pipeline partnership with the Burmese junta provides essential support to the regime. You can also communicate directly to Chevron at comment@chevron.com. The Burma Campaign UK website provides a broader "dirty list" of companies with business ties to Burma.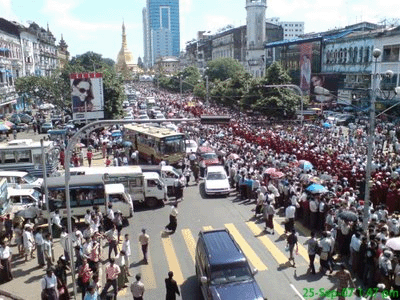 Photo Source: Ko Htike's blog
Another website, the People's Email Network, lets you tell members of the US Congress that urgent action is needed on Burma. The site calls for action "to freeze the assets of the military junta and urge all international banks to bar any monetary transfers in the interim...(and)...for an international peace keeping force under the aegis of the U.N. to protect the people of Myanmar...."

Tuesday, September 11, 2007

"I Wish I Knew How it Would Feel to be Free / One Love"

Source: NewestNuma. Song: Lighthouse Family

Friday, August 3, 2007

Birthday Greetings: Some Favorites
It's my birthday today (don't ask), so I thought I'd just share a favorite movie scene and a favorite music video (if you play them both together as a mashup, the Coldplay song becomes a great soundtrack for the film scene.)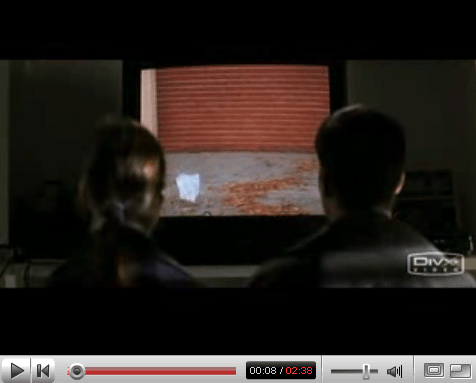 "The Bag Scene" from American Beauty

Fix You by Coldplay

Thursday, July 5, 2007

A Movement of Movements:
First US Social Forum a Historic Event

(This posting also appears as an article in Tikkun Magazine (Online Exclusive), July/August, 2007; Reprinted in Lewica.pl (Polish language political journal), August 13, 2007.

A "movement of movements" was born last week in the United States. The first US Social Forum took place from June 27-July 1 in Atlanta, Georgia, a city chosen by organizers for its historical resonance with the US Civil Rights movement. The Forum brought together 10,000 participants from around the country and beyond.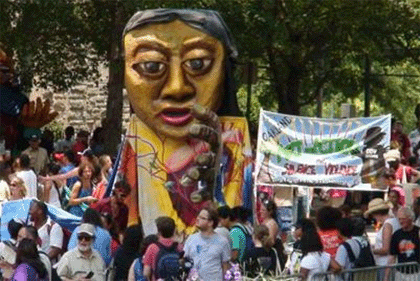 US Social Forum Opening March. Photo Source: US Social Forum
The best way to describe the Social Forum process is if one imagines that thousands of people from around the country separately took upon themselves the assignment of creating one piece of a sustainable, peaceful, just, spiritual and harmonious world order, and then came together to see how their ideas, plans, and projects could be linked together into a larger vision and movement.
The US Forum grew out of the larger World Social Forum process, begun in 2001 in Porto Alegre, Brazil, and which has now crystallized into local, regional, and national manifestations all over the world.
The purpose of the Forums, as defined in the World Social Forum Charter of Principles, is to be "an open meeting place for reflective thinking, democratic debate of ideas, formulation of proposals, freer exchange of experiences and interlinking for effective action, by groups and movements of civil society that are opposed to neoliberalism (corporate-led globalization)...and are committed to building a planetary society directed towards fruitful relationships among Humankind and between it and the Earth."
The first flexing of the World Social Forum muscle was seen in its use to coordinate the largest international demonstration in the history of the world--primarily aimed at preventing the US invasion of Iraq--which took place in February, 2003.
One of the striking elements of the first US Social Forum was the diversity of its participants. The peace and counter-globalization movements in the United States are often criticized for being too narrowly white and middle class. This was not the case in Atlanta. Blacks, Latinos/Latinas, Native Americans, Asians, indigenous peoples from around the world, new immigrants, and poor and homeless people, were all prominently represented in the gathering, as were labor, LGBTQ people, women, young people, and seniors.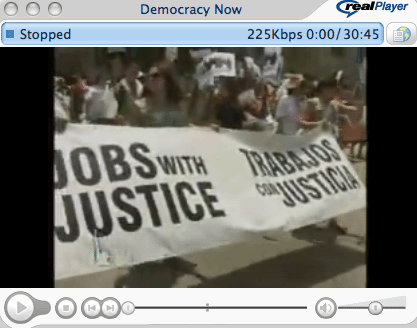 Link to US Social Forum Coverage on Democracy Now.
The Forums are all about making connections--between people, ideas, problems and solutions, between forms of oppression, and between forms of liberation. To give just one example, the Forum promoted projects for growing and consuming organic food at the local level, which is healthier for those who eat it, displaces fewer local farmers than agribusiness, and reduces the energy costs of transporting food long distances, which in turn eliminates the "need" for bioengineering of crops to preserve shelf and transportation life.
The Forums focus beyond protesting grievances to the creation of alternatives. As Nichola Torbett of the Network of Spiritual Progressives pointed out at one of the Peace Caucus sessions, "Martin Luther King, Jr. didn't inspire a movement by declaring, 'I have a complaint.'" While many of the Atlanta meetings focused on confronting or preventing injustices and exploitation of various kinds, many more involved constructive building of new institutions, practices, infrastructures, and policies that together affirm a broader vision of a sustainable, peaceful, nonviolent, humane, and just world.
The innovative responses offered in the nearly 1,000 workshops, panels, caucuses, and plenary sessions to the local-to-global social, political and economic and ecological problems they addressed, was one the Forum's principal strengths. For example, it was not seen as sufficient to merely protest the Bush Administration's conduct of the "war" against "Islamofascism," but instead to also create alternative initiatives such as the Fellowship of Reconciliation's "citizen diplomacy" peacemaking delegations to Iran, which are particularly daring in light of the fact that four Iranian-American US citizens are currently being held without charge by the Iranian government.
The Social Forum process is unlike anything else. It is not a convention or demonstration, though it has elements of both. The Forums bring together different types of people working toward a common goal--people who might not, without the Forums, have opportunity to connect. So, it creates an opportunity for immense cross-fertilization. Just as all the great cities of the world are cross-roads cities, because they allow for an intermingling of cultures that provides opportunities for the intellectual and cultural cross-breeding out of which social innovations are born, so the Social Forums create a cross-roads between people from different movements and places, and so they become places of tremendous social ferment.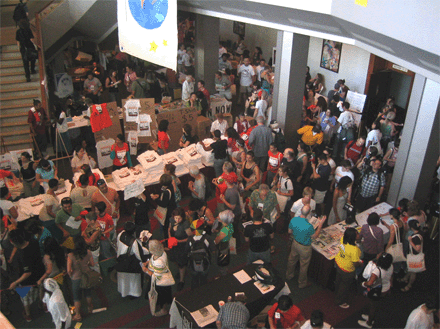 Photo: US Social Forum participants gather at Atlanta Civic Center
The networking between individuals, organizations, cultures and movements that takes place gives rise to novel shared understandings among the participants. As Mathew Smucker, of the War Resisters League, suggested in one of the workshops, the Forum allows participants an opportunity to see beyond their own organizations and efforts and begin to "think like a movement." As a result, participants could begin to see and feel, if only in faintest form, the outlines of the "other possible world" that the Forums and the movements they represent are attempting to create. In a world of so much disconnection and despair, this is an enormous source of hope and inspiration. There was an electricity in the air in Atlanta that occurs only when history is being made and people know they are making it.

Video: Alice Lovelace, National Lead Staff Organizer, U.S. Social Forum, gives closing comments at final session of the Forum: "All we want to know is where is it going to be next." Video source: topiadotnet.
The first US Social Forum represents a historic advance in the process of building a truly global civil society that, in turn, is a necessary step toward creating an eventual global democracy. That the major corporate media chose to consider this a non-event and give it practically no coverage at all means nothing in terms of the historical importance of what occurred in Atlanta last week. History is commonly made before it is recognized by the mass media, and roots of movements often grow beneath the visible soil before sprouting and becoming recognizable to mainstream society.
"Another world is possible" is not just a slogan. The Social Forum process is helping to create a movement of movements to make that other world become a reality.
Monday, June 11, 2007

US Social Forum: June 27 - July 1, Atlanta, Georgia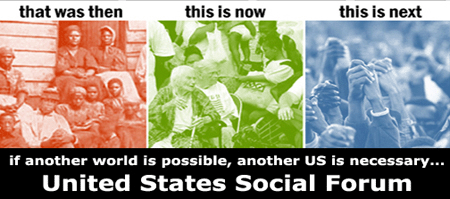 (Click on image for more information)
Take Action Against Hate Crimes

Source: PoliticsTV.com and Human Rights Campaign

Saturday, June 9, 2007
G8 Comes Up Short

"G8: Too Much Talk, Too Few Results," by Julio Godoy, Common Dreams, June 9, 2007.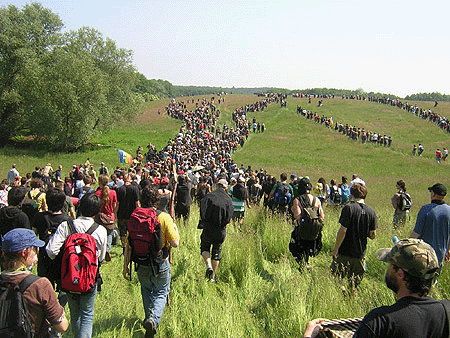 |
Protesters Outside G8 Summit. Photo Source: Indymedia UK

"Geldof and Bono blast G8 for betraying Africa," by David Blair, Telegragh.co.uk, June 9, 2007.




Archives of
Another World is Being Born
by Joel Federman
November 8, 2006-May 12, 2007
Mother's Day for Peace
A Bit of Wishful Thinking: George Bush Sings "Imagine"
What We Protest For: A Soldier Returns Home
Al Gore on our "Planetary Emergency"
A Call for Cease-Fire in Iraq
Thousands March Against the War in Iraq
World Social Forum Opens in Nairobi, Kenya
Impeach, Nancy, Impeach!
American Deemocracy Affirmedq
September 25, 2005-August 3, 2006

February 23, 2005 - September 21, 2005
Ways to Help After Hurricane Katrina
Direct Reports from Camp Casey on the Road
Letters from Fort Lewis by Kevin Benderman
Kevin Benderman: The "Real Deal"
Pro-Soldier, Anti-War
Joel Federman Joel Federman Joel Federman Joel Federman
January 28, 2005-February 7, 2005
Media Coverage of Davos vs. Porto Alegre Shows Elitist Bias
More News from the World Social Forum
100,000 Activists Gather to Build Another World:
fjfjfMajor Media Ignore Story