Another World is Being Blogged
by Joel Federman

Saturday, May 12, 2007

Mother's Day for Peace: "A Global Notion of Motherhood"

Source: Mother's Day for Peace

"Noor: Let's Reclaim Mother's Day for Peace, " by Queen Noor of Jordan, CNN.com, May 11, 2007.

Monday, April 23, 2007
A Bit of Wishful Thinking:
George Bush Sings "Imagine" with World Leaders

Video Source: Rx2008

Wednesday, April 4, 2006

What We Protest For: A Soldier Returns Home

Video Source: PoliticsTV.com

Wednesday, March 21, 2007

Al Gore on our "Planetary Emergency"

Al Gore Speaks to Congress on the "planetary emergency" of global warming, March 21, 2007.

Monday, February 5, 2007

A Call for Cease-Fire in Iraq

Today's Baltimore Sun has a well-developed op-ed by David Cortright and Robert G. Gard, Jr., calling for a cease-fired in Iraq. This idea, posed here earlier, is so reasonable that it is incomprehensible why it hasn't been aired more fully (or at all) as Congressional hearings explore alternative approaches to current U.S. policy in Iraq.

Sunday, January 28, 2007
Thousands March Against the War in Iraq...

...or was it "tens of thousands," or "hundreds of thousands?" The mass media report--you decide.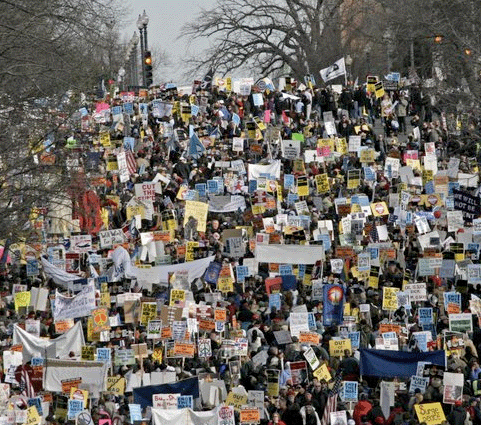 Washington, D.C. Anti-War March, January 27, 2007
Photo Source: Washington Post

Sunday, January 21, 2007
World Social Forum Opens in Nairobi, Kenya

More than 80,000 people from around the world have gathered in Nairobi, Kenya, from January 20 to 25, 2007, for the the 2007 World Social Forum. The Forum brings peace, justice and democracy activists, social movements, networks, and coalitions from around the world together for panels, workshops, symposia, processions, film nights, and "five days of cultural resistance and celebration." Stories about the Forum may not be prominent on CNN, Fox, or MSNBC, etc., but can be found in abundance when you do a search for it on Google news.
Thursday, January 4, 2007
Impeach, Nancy, Impeach!

With the ascent of the Democrats to power in the Capitol and Nancy Pelosi newly elected as the Speaker of the House, it's time to for Congress to address the overwhelming pattern of deeply disturbing abuses of fundamental constitutional and human rights by the Bush Administration. If illegal spying on citizens' emails, government-sanctioned torture, Guantanamo, Abu Ghraib, and CIA renditions and secret prisons, weren't enough reason to impeach George Bush and Dick Cheney, now there is news that Mr. Bush has attached a "statement" to recently passed postal legislation allowing the government to open citizens' mail without a warrant when it deems it necessary "for foreign intelligence collection."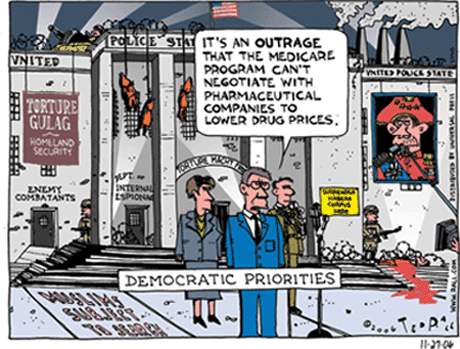 Cartoon by Ted Rall. Source: Slate.com
It's incomprehensible that this latest news hasn't been reported and protested as the huge scandal that it is. Isn't the premise that the government is not able to open our mail supposed to be one of those basic elements that allow us to say that we live in a free country and a democracy? How many basic freedoms have to be eroded before there is a consistent protest movement on this issue? As columnist Molly Ivins has put it, "this administration has done away with rights first enshrined in the Magna Carta nearly 800 years ago, and we've let them do it."
We've tried exporting democracy, maybe we should try importing it. We can start by impeaching the President and restoring the constitutional and human rights principles of the United States. Impeachment needs to be put back "on the table."
Wednesday, November 8, 2006

American Democracy Reaffirmed
Beyond being pleased with the Democratic turn in yesterday and today's election results, I know a lot of people, including me, are just plain relieved with proof that American democracy still works, though it remains flawed in so many ways. With the combination of the 2000 Supreme Court Presidential no-recount decision, alleged voter fraud in Ohio in 2004, widespread evidence of ongoing Democratic voter disenfranchisement, concern over the legitimacy of electronic voting machines, and gerrymandered congressional districts, it was reasonable to wonder whether we had a functioning democracy. The biggest news of the 2006 election is that the people are still a check against the government in power.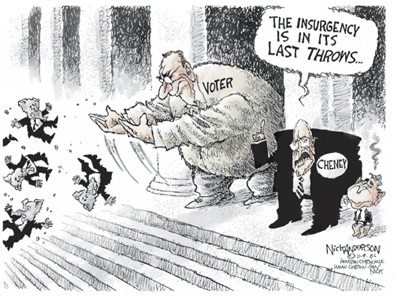 Cartoon by Nick Anderson. Source: Slate.com

Now, we can ask the next question: when an overwhelming majority of the people in a democractic country so clearly rebuke a war conducted by its government, how can that war continue?

Footnote: It's not being covered anywhere in the mainstream national or international media, but in House Speaker-elect Nancy Pelosi's home district in San Francisco, there was a ballot measure yesterday, asking "Shall it be City policy to call for impeachment of President Bush and Vice President Cheney?" The measure passed by a 59.4 to 40.6 margin. San Francisco values at work.\


Archives of
Another World is Being Born
by Joel Federman
September 25, 2005-August 3, 2006

February 23, 2005 - September 21, 2005
Ways to Help After Hurricane Katrina
Direct Reports from Camp Casey on the Road
Letters from Fort Lewis by Kevin Benderman
Kevin Benderman: The "Real Deal"
Pro-Soldier, Anti-War
Joel Federman Joel Federman Joel Federman Joel Federman
January 28, 2005-February 7, 2005
Media Coverage of Davos vs. Porto Alegre Shows Elitist Bias
More News from the World Social Forum
100,000 Activists Gather to Build Another World:
fjfjfMajor Media Ignore Story






Back to Top