In This Column
In the News
Human Rights and Global Social Justice Links / Resources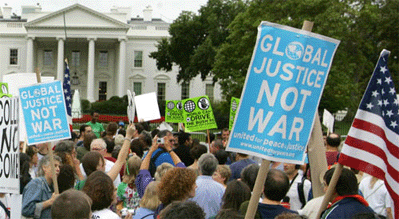 AP Photo Source: Huffington Post

In The News
Tuesday, October 1, 2013
Help Change the Rules That Create Global Poverty and Inequality

Source: therules.org
"Food Prices 'Will Double by 2030', Oxfam Warns," BBC News, May 30, 2011.

"The Food Crisis is Not About a Shortage of Food," by Jim Goodman, Common Dreams, September 17, 2010.
"UN: World Hunger Down, But Still 'Unacceptable'," CNN.com, September 14, 2010.
"Social Status Has Measurable Effect on Health," by Rick Wilson, Common Dreams, November 30, 2009.
"Hunger in U.S. at a 14-year high," MSNBC, November 16, 2009.
"Poor nutrition 'stunting growth,'" BBC News, November 11, 2009.
World Food Day, October 16, 2009.
"World Hunger Hits One Billion," BBC News, June 20.2009.
"S Asia Hunger 'at 40 Year High,'" BBC News, June 2, 2009.
"The City That Ended Hunger," by Frances Moore Lappe, Yes! Magazine, Spring 2009.
"Developing World Too Big to Fail," by Kevin Gallagher, Common Dreams, March 5, 2009.

"Year of the hungry: 1,000,000,000 afflicted," by Geoffrey Lean, The Independent, December 29, 2008.
"Hunger Among U.S. Children Skyrockets in 2007," CNN.com, November 18, 2008.
"Bill Clinton: "We Blew It" on Global Food," CBS News.com, October 23, 2008.
"Global Priorities: Feeding Markets, Starving the Hungry," by Devinder Sharma, Common Dreams, September 23, 2008.

"Escaping the Poverty Trap," by Mercedes Sayagues, Common Dreams, August 15, 2008.
"UN food crisis summit delegates work on compromise," by Marta Falconi, Associated Press, June 4, 2008.
"Food Summit 'Follow Through' Urged," by Haider Rizvi, OneWorld.net, June 4, 2008.

"Food Is Gold, and Investors Pour Billions Into Farming," by Diana B. Henriques, New York Times, June 4, 2008.
"Analysis: The Global Food Crisis," Aljazeera.net, June 3, 2008.

"United Nations Summit in Rome Next Week to Address the Global Food Crisis," by Antony Faiola, Washington Post, May 29, 2008.

"Global Hot Spots of Hunger Set to Explode," by Thalif Deen, Common Dreams, April 15, 2008.
"Merkel Says She Will Not Attend Opening of Beijing Olympics," Common Dreams, / The Guardian/UK, March 29, 2008.

"World Food Program Issues 'Emergency Appeal' for Funds," Common Dreams / Los Angeles Times, March 25, 2008.
"Feed the World? We are Fighting a Losing Battle, UN Admits," by Julian Borger,Common Dreams, February 27, 2008.

"Millions Stand Against Poverty in 24-Hour Global Rally," by Haider Rizvi, Common Dreams, October 19, 2007.

"Resistance, Not Repression, is the Real Story from Burma," by Cynthia Boaz, Truthout, October 9, 2007. (For much more on Burma, see the topia.net homepage blog)
"G8: Too Much Talk, Too Few Results," by Julio Godoy, Common Dreams, June 9, 2007.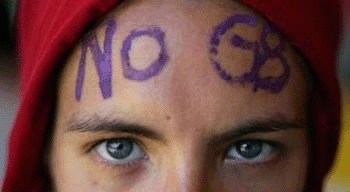 Photo Source: Reuters/Common Dreams
"Geldof and Bono blast G8 for betraying Africa," by David Blair, Telegragh.co.uk, June 9, 2007.

"The World Social Forum at the Crossroads," by Walden Bello, CommonDreams.org, May 5, 2007.

"WTO Protesters to Get $1 Million Settlement," MSNBC, April 3, 2007.

World Social Forum Opens in Nairobi, Kenya
More than 80,000 people from around the world gathered in Nairobi, Kenya, from January 20 to 25, 2007, for the the 2007 World Social Forum. The Forum brings peace, justice and democracy activists, social movements, networks, and coalitions from around the world together for panels, workshops, symposia, processions, film nights, and "five days of cultural resistance and celebration."
"Hopeful Signs for Global Justice," by Marc Engler, Alternet, December 28, 2006.
"The Global Development Agenda in 2007," by Simon Maxwell, opendemocracy.net, December 21, 2006.

"Please Don't Feed the People," by William Saletan, Washington Post, September 3, 2006.

"A Right to Food?" by Frances Moore Lappé, Common Dreams, August 26, 2006.

"Celebrities, Activists Rally for Darfur in D.C.," MSNBC, April 30, 2006.

"China, Iran, Saudi, US Main Executioners: Amnesty," by Reuters, Common Dreams News Center, April 20, 2006.
"A New Path on Latin Poverty," by Marcela Sanchez, Washington Post, February 18, 2006.

"Visions of the Left Emerge in Venezuela," by Jorge Rueda (Associated Press), The Mercury News, January 28, 2006.

"Davos 2006: Making CARING About Poverty...History," by Van Jones, HuffingtonPost.com, January 28, 2006.

"Partying at Davos," by Jeff Faux, Common Dreams, January 23, 2006.

"Activists Seek End to Poverty, Iraq War," by Jorge Rueda (Associated Press), Washington Post, January 25, 2006.

"Venezuela Hosting World Social Forum," by Christopher Toothaker (AP), San Francisco Chronicle, January 23, 2006.

"Famine Threatens 11 Million in Horn of Africa," MSNBC, January 7, 2006.

"World Summit on UN's Future Heads for Chaos," by Ewan MacAskill, Common Dreams, September 10, 2005.

"US Wants Change in UN Agreement," by Colum Lynch, Washington Post, August 25, 2005.
"How the G8 Lied to the World on Aid," by Marc Curtis, Common Dreams News Center, August 23, 2005.

Human Rights / Global Social Justice Links

Share The World's Resources
Share The World's Resources (STWR) is an nongovernmental organization (NGO) campaigning for global economic and social justice. STWR Global Focus presents information about why the world economy needs reforming and how a system based on the principle of sharing can prevent 50,000 people dying from poverty every day. The latest news, analysis and videos on these issues can be found on the organization's website.

Kiva: Loans That Change Lives
As profiled recently in the New York Times and PBS's Frontline World, Kiva is an organization that lets you connect with, and loan money to, unique small businesses in the developing world. By choosing a business on Kiva.org, you can "sponsor a business" and help the world's working poor make great strides towards economic independence.

The Grameen Foundation
Awarded the 2006 Nobel Peace Prize, the Grameen Foundation's mission is to empower the world's poorest people to lift themselves out of poverty with dignity through access to financial services and to information. With tiny loans, financial services and technology, they help the poor, mostly women, start self-sustaining businesses to escape poverty.
50 Years Is Enough: U.S. Network for Global Economic Justice
50 Years Is Enough: U.S. Network for Global Economic Justice is a coalition of over 200 U.S. grassroots, women's, solidarity, faith-based, policy, social- and economic-justice, youth, labor and development organizations dedicated to the profound transformation of the World Bank and the International Monetary Fund (IMF).

OneWorld.Net
OneWorld.Net is a website that brings together the latest news from over 1,600 organizations promoting human rights awareness and fighting poverty. OneWorld.Net has a global database of links to 1500 organizations--sorted by region and issue focus.
DarfurGenocide.org
This site's sole purpose is to try to save lives by helping stop the genocide in Darfur. It empowers you to take smart, strategic actions to compel those in power to act through international petitions or local events. It provides access to the best, most relevant and most up-to-date information available. www.savedarfur.org is a similar website.
Food First
The Institute for Food and Development Policy--better known as Food First--is a research and education-for-action center. Its work highlights root causes and value-based solutions to hunger and poverty around the world, with a commitment to establishing food as a fundamental human right.
Amnesty Intermational
Amnesty International (AI) is a worldwide movement of people who campaign for internationally recognized human rights. In pursuit of this vision, AI's mission is to undertake research and action focused on preventing and ending grave abuses of the rights to physical and mental integrity, freedom of conscience and expression, and freedom from discrimination.
Human Rights Watch
Human Rights Watch (HRW) is dedicated to protecting the human rights of people around the world by standing with victims and activists to prevent discrimination, to uphold political freedom, to protect people from inhumane conduct in wartime, and to bring offenders to justice.
investigate and expose human rights violations and hold abusers accountable. HRW challenges governments and those who hold power to end abusive practices and respect international human rights law.
Global Exchange
Global Exchange is an international human rights organization dedicated to promoting political, social and environmental justice globally.
Your Global Rich List Position
This website provides a calculator that allows you to determine your annual income relative to the rest of the world. By entering your annual income, and clicking on the calculator, it gives you the following read-out, with specific dollar figures where the xxx's are: "You are in the top xx% richest people in the world. There are x,xxx,xxx,xxx people poorer than you. How do you feel about that? A bit richer we hope. Please consider donating just a small amount to help some of the poorest people in the world. Many of their lives could be improved dramatically or even saved if you donate just one hour's salary (approx $xx.xx)"
2005 United Nations World Summit
On September 14-16, 2005, the UN World Summit brought together more than 170 Heads of State and Government: the largest gathering of world leaders in history. It was a once-in-a-generation opportunity to take bold decisions in the areas of development, security, human rights and reform of the United Nations. More on the UN Millennium Goals here.